MtPuTTY multi tabbed putty is an improved variant of putty ssh client, easier to use if working on several servers at the same time.
However it has an annoying tendency to display long directory paths in each tab title.
You can switch that behaviour off with Tools > Settings > Show Display name.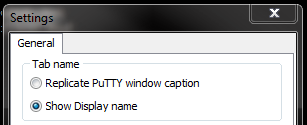 Microsoft Remote Desktop Connection Manager is the equivalent for remote desktop to Windows servers, and WinSCP the equivalent for file transfer. All three are licence free.